Skip to Main Content
It looks like you're using Internet Explorer 11 or older. This website works best with modern browsers such as the latest versions of Chrome, Firefox, Safari, and Edge. If you continue with this browser, you may see unexpected results.
FaithWorks, Inc.
Sparrow's Nest, The Well, and Open Doors
2021 Excellence in Service-Learning
Outstanding Community Partner Award
Service-Learning Partnerships: 8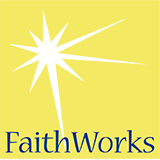 FaithWorks actively develops collaborative, ecumenical and secular partnerships that maximize resources that meet human needs. Currently, we partner with 55+ churches and church groups and have almost 1200 individuals and businesses that provide financial support. We seek to foster relationships and community spirit by connecting people to eliminate prejudice and to heal brokenness.